FREE Film Production Related Articles By John Gaskin
---
All of these articles are written for the non-accountant. The purpose of the articles is to give you a familiarty with 'Directing the Money' during any film production in any country. BOOKMARK this page in your favorites and check out the articles at your leisure.
Articles 1 through 7 have a comment box at the bottom. It really helps to get feedback, good or bad. Thx much!
See Below to learn more about the instant download of my e-book, "Walk The Talk"
FREE ARTICLES:
1.MAKING IT in Film Production
2.Introduction to Directing the Money
3.Translating Script Ideas Into Money Talk
4.A Producer Favorite - Above-the-Line Film Budgeting
5.A Director's Tool - Below-the-Line Budgeting
6.The Film Production Report Card – The Weekly Cost Report
7.The Art of Presenting the Film Production's Weekly Cost Report
8.Screenwriters and Filmmakers – Pitching The Cold Heart of a Banker
9.Film Financing – Are Film Graduates Prepared To Take the Challenge?
10.Film Budgeting – Insider Tips For Film Students
11.Film Directors - Direct the Money Before the Money Directs You
If you have an article you'd like to add, send it to me. If it suits my site I'll be happy to include it with your byline and links.
See the Home Page for more information on what the book is about.
Throughout the book I've inserted some of the juicier real life pitfalls that I've personally witnessed, reported on, or unwittingly participated in.
See Story #8 for one such story.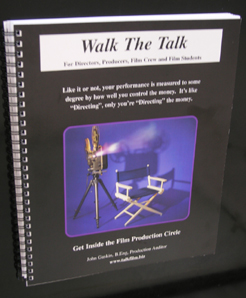 If You Work In Film Production (or want to) This Book Is For You
This book started out as an effort to answer a question that Ron Howard had put to me back in 1993. (You can check out the question in Chapter 1). The purpose of the book expanded from that question into a way to help Directors understand that 'Talking Money' is a simple, but necessary, tool to use during the film production.
See the page about Direct the Money - Walk The Talk.
Many of my subscribers are international. To avoid shipping charges I made the book available as a digital download to your own computer. This EBook also allows me to offer you a reduced rate.
Immediate access to a practical guide with173 pages of experience to help you make it in film. For instant download of the e-book, click the Buy-Noe Button below.
An added aim of this book to give an insight into the world of Production Managing. To my knowledge and research, exposure to this type of information just isn't available anywhere else. This book is vital for film crew who want to become a Production Manager.
See Crew-It's Cool To Walk The Talk.
I've written a series of 7 articles summarizing the book for Film Directors, Producers, Film Crew and Film Students. Check them out:
----------------------------------**-------------------------------------